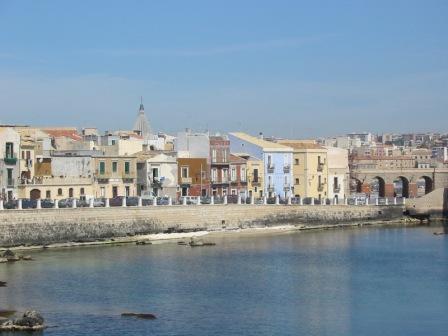 Messina, Catania, Porto Empedocle, Milazzo, Ragusa, Siracusa, Reggio Calabria
Easy walking + pedestrian path
The tour will start picking you up from the dock or other places you arrive. Our destination today is the beautiful town of Syracuse in the southern part of the Island - enjoy a very special introduction to the Sicilian coastline en-route. Syracuse, built on an ancient Greek settlement founded by Corinthians in 734 BC. We will visit the archaeological area of Neapolis with is Greek theatre, the Roman amphitheatre and Latomia del Paradiso (with its Dionysius Hear) and the "Ara of Hyeron". We will arrive at the 'Ortigia Island', the heart of the city and we will stroll along the ancient narrow streets and the Duomo square, than the Cathedral, built above a Greek Temple. We will take in one of the more charming spot of Ortigia, the "Arethusa fountain" with its Papyrus plants, overlooking the Ionic sea. We will also have the chance to stroll the open Sicilian local market situated in the heart of Ortigia, full of vegetables, fish and local products. Then we will drive you to the dock or others places you prefer, in time for departure.
All tours begin and end at the place and time established by the customer. Prices are per person. Within our vehicles is available for all our customers, free of charge, a minibar with cool drinks and snacks. The entrances to museums and other art venues, meals and tips are not included.
Free internet wi-fi in selected vehicles.
Prices
: depending on the tour and services selected.
Request a quote to:
info@sicilywithmario.com
MORE DAYS TOUR:
If you want to combine together several day trips, we can arrange personalized tours.
COMPLAINTS
If a Client has a complaint against the Company, the Client must first inform the company at the earliest opportunity to allow the grievance to be rectified and in case offer a refund, before any public display of the matter.
CANCELLATION POLICY:
* 50% of your total amount if you cancel from 2 days prior to your scheduled arrival date.
* 70% of your total amount if you cancel 1 day prior to your scheduled arrival date.
* 100% of your total amount if you cancel less than 1 day prior to your scheduled arrival date or No show.