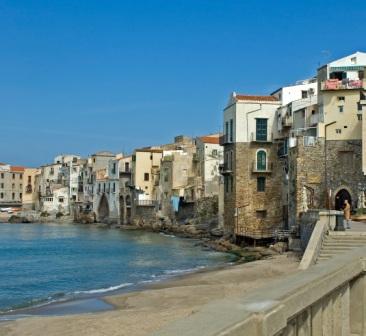 Messina, Catania, Taormina, Giardini Naxos, Palermo, Milazzo, Siracusa, Ragusa
(Easy walking + pedestrian path
The tour will start picking you up from the dock or other places you arrive. We will stop first and visit Tyndaris, which began as a settlement back in the Bronze Age (about 1500 B.C). We will visit the amphitheatre, which was built in the 4th century BC. We will also see the very important Christian Sanctuary that sits high on the hill above the city. It is famous for its black Madonna statue that draws visitors from afar, and gives it its name, the Sanctuary of the black Madonna. Drive to visit CEFALù, a charming unspoiled village with winding, narrow, medieval streets and delightful restaurants overlooking a rocky coast. The most important monument is the Duomo of Cefalù which was begun in 1131 by Roger II and it was intended as the principal religious seat in Sicily. In the museum "Mandralisca" which houses an "Antonello da Messina" painting and a collection of coins, ceramics, vases, minerals and shells. Time permits, we may drive a little more along the coast line to get to the charming village of SANTO STEFANO DI CAMASTRA, filled of several ceramic shops and colored pottery, with bar, local restaurant and pastry. Then we will drive you back to the dock or others places you prefer, in time for departure.
All tours begin and end at the place and time established by the customer. Prices are per person. Within our vehicles is available for all our customers, free of charge, a minibar with cool drinks and snacks. The entrances to museums and other art venues, meals and tips are not included.
Free internet wi-fi in selected vehicles.
Prices
: depending on the tour and services selected.
Request a quote to:
info@sicilywithmario.com
MORE DAYS TOUR:
If you want to combine together several day trips, we can arrange personalized tours.
COMPLAINTS
If a Client has a complaint against the Company, the Client must first inform the company at the earliest opportunity to allow the grievance to be rectified and in case offer a refund, before any public display of the matter.
CANCELLATION POLICY:
* 50% of your total amount if you cancel from 2 days prior to your scheduled arrival date.
* 70% of your total amount if you cancel 1 day prior to your scheduled arrival date.
* 100% of your total amount if you cancel less than 1 day prior to your scheduled arrival date or No show.