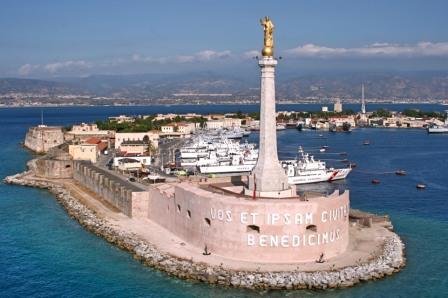 Messina, Catania, Giardini Naxos, Taormina
easy walking + pedestrian area
The tour begins at the dock or other point you wish. The first stop is the Church of Montalto, who houses one of the oldest icons of the Madonna and where you enjoy spectacular views of the city, the second stop will be the shrine of Christ the King, built during the fascist dictatorship, holds the remains of war deads, old paintings and fine marbles; from the terrace you can enjoy the best view of the city and the Strait of Messina. Continue through the ancient arch of the Spanish era to reach the old city gate, a short stop for a couple of photos then, later, continue towards the Galleria Vittorio Emanuele, one of the most fascinating architectural buildings of the city. Before reaching the Cathedral, our ultimate goal, we will make a few stops to visit Pugliatti Square where you will find the Palace of Justice and the University. To reach the Cathedral we pass in front of the Church SS Annunziata of the Catalans and the Baroque fountains. We will also have time to admire the monument of Don John of Austria and then go to our final stop, the cathedral of Messina, with its spectacular astrological/ astronomical tower. The tour will end at the place and time you prefer.
All tours begin and end at the place and time established by the customer. Prices are per person. Within our vehicles is available for all our customers, free of charge, a minibar with cool drinks and snacks. The entrances to museums and other art venues, meals and tips are not included.
Free internet wi-fi in selected vehicles.
Prices
: depending on the tour and services selected.
Request a quote to:
info@sicilywithmario.com
MORE DAYS TOUR:
If you want to combine together several day trips, we can arrange personalized tours.
COMPLAINTS
If a Client has a complaint against the Company, the Client must first inform the company at the earliest opportunity to allow the grievance to be rectified and in case offer a refund, before any public display of the matter.
CANCELLATION POLICY:
* 50% of your total amount if you cancel from 2 days prior to your scheduled arrival date.
* 70% of your total amount if you cancel 1 day prior to your scheduled arrival date.
* 100% of your total amount if you cancel less than 1 day prior to your scheduled arrival date or No show.