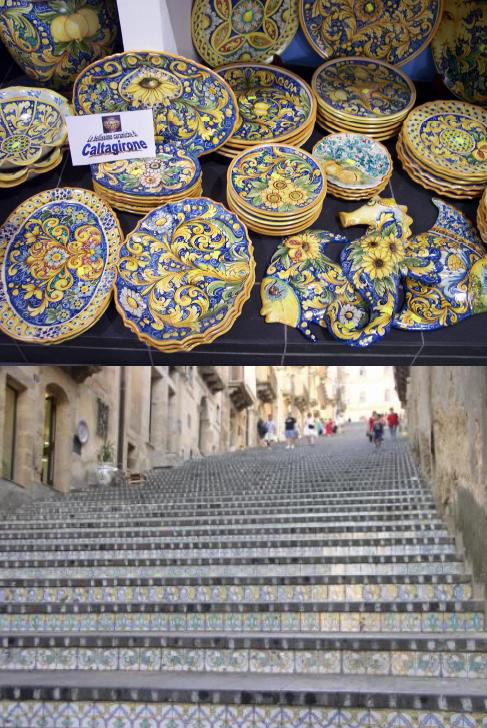 Messina, Catania, Taormina, Giardini Naxos, Palermo, Milazzo, Ragusa, Porto Empedocle, Reggio Calabria
Easy walking + pedestrian path
The tour begins at the place and time agreed with the customer. Piazza Armerina is situated on a plateau almost 700 meters above sea level to about 35 km from Enna. Piazza Armerina was founded during the Norman rule, its historic center is full of beautiful churches, including the baroque cathedral, is also of considerable interest Spinelli Castle. The main attraction, however, the famous Roman Villa, with its magnificent mosaics. The Roman site is located a few kilometers from the town, the villa is one of the largest Roman patrician residences to have remained almost intact. Inside are precious mosaics depicting scenes of everyday life, such as hunting, games and gymnastic exercises. The villa was built between 330 and 360 A.D. and extends for about 3500 square meters. Our second stop today is Caltagirone, a few kilometers away from Piazza Armerina. Once an ancient Saracen fortress, the mountain town was rebuilt after the earthquake of 1693. The architecture of its churches is typically Baroque. Caltagirone is famous for its pottery. After a walk to the city center and visit the quaint shops of ceramics, we stop to taste the typical almond paste cookies. Our tour ends here, customers will then be accompanied to the place and time they prefer.
All tours begin and end at the place and time established by the customer. Prices are per person. Within our vehicles is available for all our customers, free of charge, a minibar with cool drinks and snacks. The entrances to museums and other art venues, meals and tips are not included.
Free internet wi-fi in selected vehicles.
Prices
: depending on the tour and services selected.
Request a quote to:
info@sicilywithmario.com
MORE DAYS TOUR:
If you want to combine together several day trips, we can arrange personalized tours.
COMPLAINTS
If a Client has a complaint against the Company, the Client must first inform the company at the earliest opportunity to allow the grievance to be rectified and in case offer a refund, before any public display of the matter.
CANCELLATION POLICY:
* 50% of your total amount if you cancel from 2 days prior to your scheduled arrival date.
* 70% of your total amount if you cancel 1 day prior to your scheduled arrival date.
* 100% of your total amount if you cancel less than 1 day prior to your scheduled arrival date or No show.