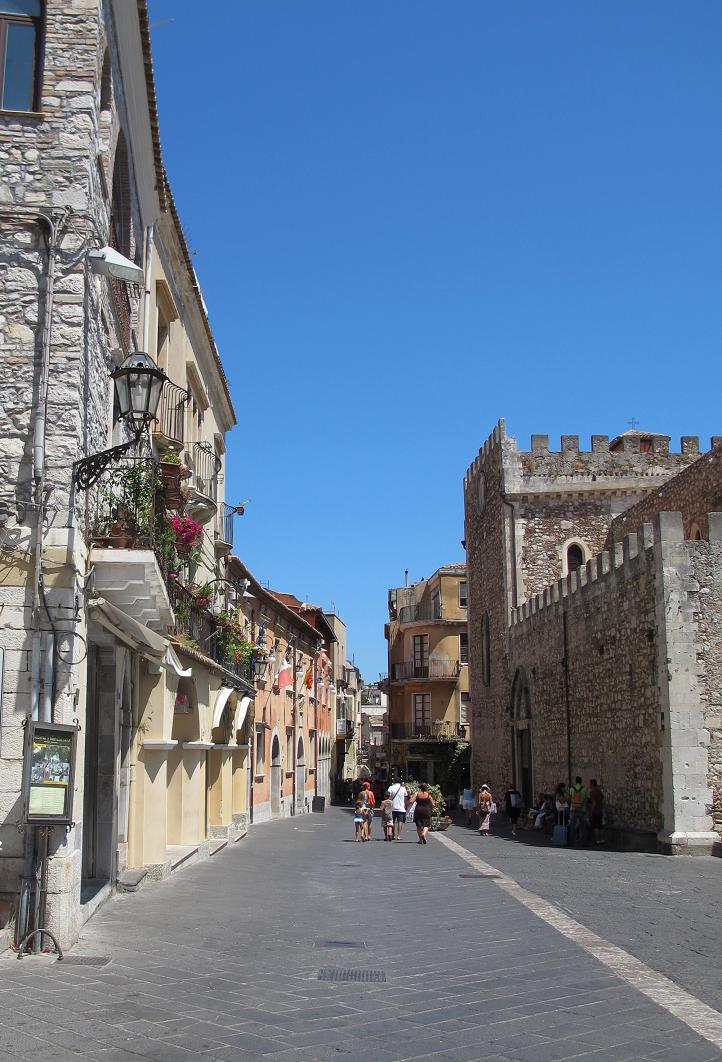 Messina, Catania, Taormina, Giardini Naxos, Palermo, Trapani, Milazzo, Siracusa, Ragusa, Milazzo, Reggio Calabria
Castelmola-Taormina-Messina Tour (all pedestrian area)
The tour will start picking you up from the dock or other places you arrive. We get the highway to Taormina, from where we will drive up to the village of Castelmola (450 mt.). Castelmola is a small and enchanting village just above Taormina, with an amazing landscape and a great view of Mount Etna (3.330 mt. - 11.000 ft. - the highest volcano in Europe), and wonderful landscape of Giardini-Naxos bay. We spend here few time to visit the places, then we drive 5 min down to Taormina, the ancient greek colony, with its amazing pedestrian path (the ancient roman "valeria" road), the greek theatre, the monuments, the shops, the famous restaurants and pubs and more else. You spend in Taormina 1 or 2 hours, as you like, then we drive back to Messina (or Catania) for a quick city tour. In Messina we will see a church with bronze statues (King Christ church) and also a viewpoint, that's one of the oldest fortress in Messina, from which to see the straight and the port of Messina, and take pictures of it. The tour will end at the cathedral of Messina with its very particular and spectacular astronomical clock (the biggest in the world). In Catania we will visit the baroque city center, with its amazing cathedral. Then we will drive you to the dock or others places you prefer, in time for departure.
All tours begin and end at the place and time established by the customer. Prices are per person. Within our vehicles is available for all our customers, free of charge, a minibar with cool drinks and snacks. The entrances to museums and other art venues, meals and tips are not included.
Free internet wi-fi in selected vehicles.
Prices
: depending on the tour and services selected.
Request a quote to:
info@sicilywithmario.com
MORE DAYS TOUR:
If you want to combine together several day trips, we can arrange personalized tours.
COMPLAINTS
If a Client has a complaint against the Company, the Client must first inform the company at the earliest opportunity to allow the grievance to be rectified and in case offer a refund, before any public display of the matter.
CANCELLATION POLICY:
* 50% of your total amount if you cancel from 2 days prior to your scheduled arrival date.
* 70% of your total amount if you cancel 1 day prior to your scheduled arrival date.
* 100% of your total amount if you cancel less than 1 day prior to your scheduled arrival date or No show.