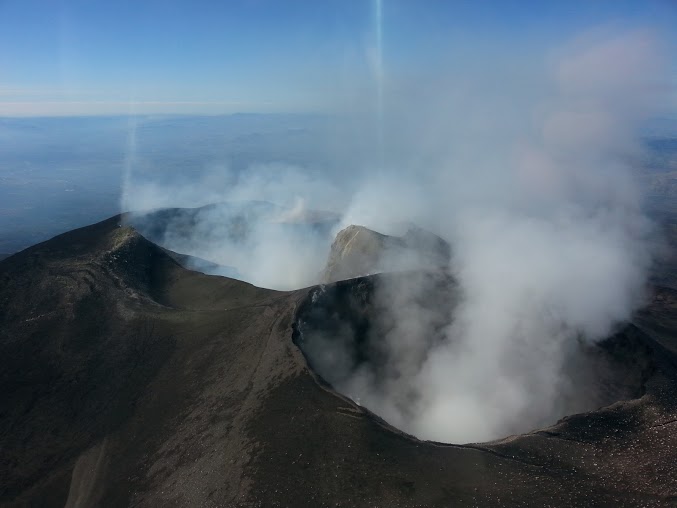 Messina, Catania, Taormina, Giardini Naxos, Palermo, Trapani, Milazzo, Napoli, Siracusa, Ragusa, Porto Empedocle, Reggio Calabria
The tour starts form the harbor or any other place you prefer. We pick you up on a luxury Mercedes vehicle to the airstrip. Boarded the helicopter began our adventure on the highest active volcano in Europe. Helicopter tours is a new dimension to enjoy your volcano experience; from the top, flying above the volcano you can enjoy things and landscape that are invisible or look completely different from the ground level. We will fly above Valle del Bove, craters Silvestri, the big eruptive activity creating the fracture belonging from 2001, the lines of the lava flows of 2002/2003 eruption, the main craters, the slopes of 1792 eruption and others eruptions from the past activity. At the end of the tour we get the vehicle and we drive to the refuge of craters Silvesti (2000 mt- 7000 fts). Before we reach our destination we cross some Sicilian villages (Milo, Santa Venerina and Zafferana), then we get to the craters Silvestri (7000 ft.), it is amazing the landscape of the the big craters, where you can admire the large lava flows creates from past eruptions. On the road we enjoy the great vineyards of Etna and the farms overlooking the coast of Catania. Than we stop in a nice winery to have a sicilian wine and food tasting. The tour will end at the place and time you prefer.
NOTE:
the
flight
might be
canceled due to
adverse weather conditions
All tours begin and end at the place and time established by the customer. Prices are per person. Within our vehicles is available for all our customers, free of charge, a minibar with cool drinks and snacks. The entrances to museums and other art venues, meals and tips are not included.
Free internet wi-fi in selected vehicles.
Prices
: depending on the tour and services selected.
Request a quote to:
info@sicilywithmario.com
MORE DAYS TOUR:
If you want to combine together several day trips, we can arrange personalized tours.
COMPLAINTS
If a Client has a complaint against the Company, the Client must first inform the company at the earliest opportunity to allow the grievance to be rectified and in case offer a refund, before any public display of the matter.
CANCELLATION POLICY:
* 50% of your total amount if you cancel from 2 days prior to your scheduled arrival date.
* 70% of your total amount if you cancel 1 day prior to your scheduled arrival date.
* 100% of your total amount if you cancel less than 1 day prior to your scheduled arrival date or No show.