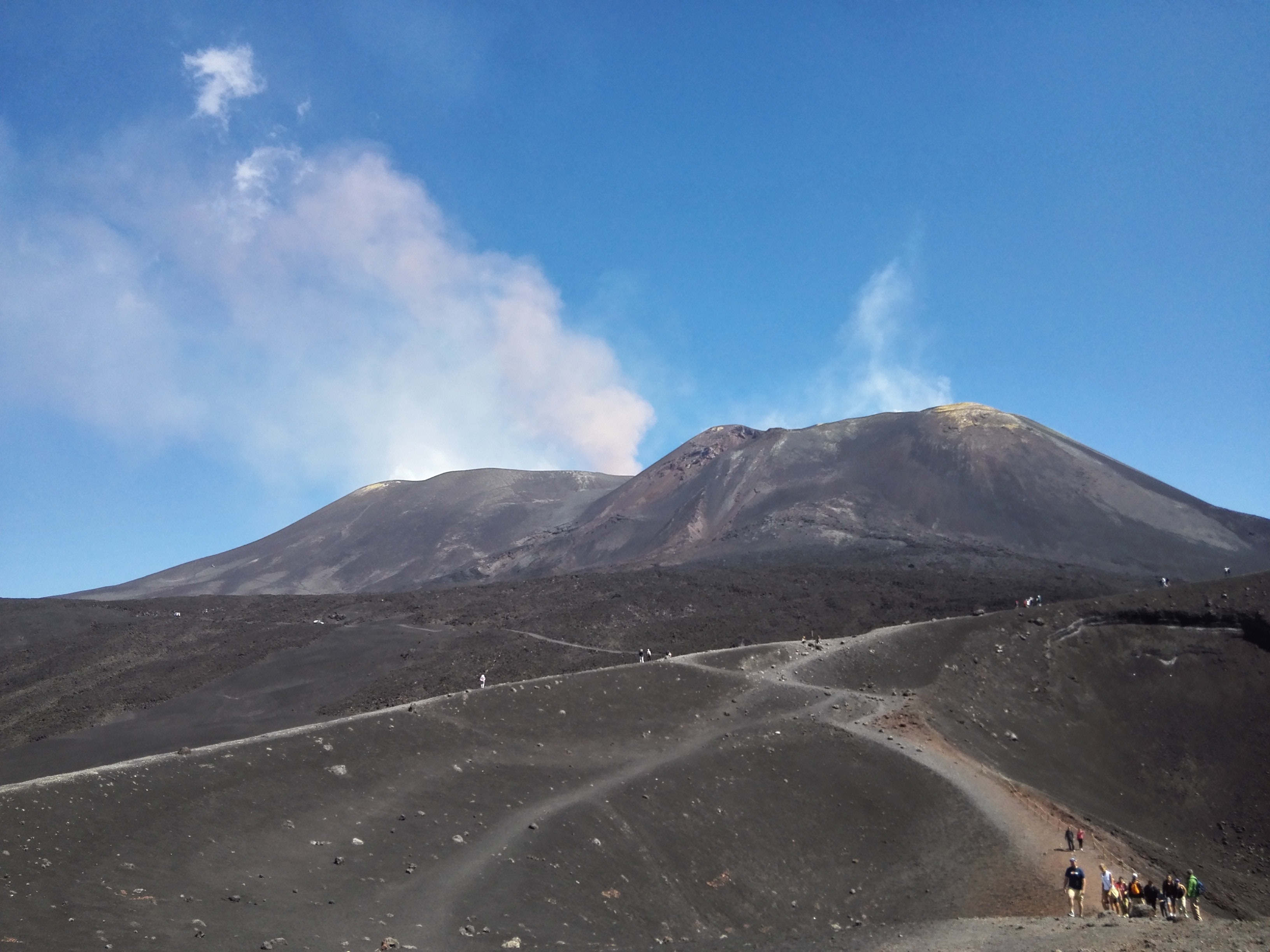 FROM: Messina, Catania, Taormina, Giardini Naxos, Palermo, Milazzo, Siracusa, Ragusa, Reggio Calabria, Porto Empedocle, Palermo
EXPLORE VOLCANO ETNA, VISIT TAORMINA, THE GODFATHER SITES (SAVOCA) AND MESSINA (OR CATANIA IF THE TOUR STARTS FROM CATANIA)

(Light walking + pedestrian path)
Pick up at the pier or other place you arrive. Once on board of the AC vehicle, we take thehighway Messina/Catania (exit Giarre). We leave the sea level and start to climb towards thesummit of the volcano. Before we reach our destination we cross the Etna National Park(Unesco Patrimony since 2013) and some Sicilian villages (Santa Venerina and Zafferana - stopfor typical sicilian products tasting in Zafferana - included), then we get to the craters Silvestri(7000 ft.), it is amazing the landscape of the the big craters, where you can admire the largelava flows creates from past eruptions.On the road we enjoy the great vineyards of Etna and the farms overlooking the coast of Catania. Then we leave Etna and we drive approx. 45 min. to Taormina, the ancient greek colony, with its amazing pedestrian path (the ancient roman "valeria" road), the greektheatre, the monuments, the shops, the famous restaurants and pubs and more else. You spendin Taormina around 2 hours, as you like, then we drive to the villages where the movie theGodfather has been filmed. We stop in Savoca, an amazing village nsert in the list of the mostbeautiful italian villages, very famous because it was the location of F.F. Coppola "godfather"and also for its marvelous ancient monuments. We will visit the Cathedral, the medieval areaand the famous Bar Vitelli, than we stop for the almond wine tasting (included). After visitingthe godfather village we get the highway in order to drive back to Messina. In Messina we willvisit the city center, the amazing cathedral, the monuments and the famous view point CristoRe, from where we can admire the Strait of Messina and the harbour. Dropp off latest 1 hr before your ship departure.
This tour includes: - Professional English-speaking driver, Transportation by Mercedes luxury AC van, snacks and beverages on board, tastiing as described, all taxes and parking fees.
All tours begin and end at the place and time established by the customer. Prices are per person. Within our vehicles is available for all our customers, free of charge, a minibar with cool drinks and snacks. The entrances to museums and other art venues, meals and tips are not included.
Free internet wi-fi in selected vehicles.
Prices
: depending on the tour and services selected.
Request a quote to:
info@sicilywithmario.com
MORE DAYS TOUR:
If you want to combine together several day trips, we can arrange personalized tours.
COMPLAINTS
If a Client has a complaint against the Company, the Client must first inform the company at the earliest opportunity to allow the grievance to be rectified and in case offer a refund, before any public display of the matter.